When the time comes to replace a window, people will look for something that's both visually appealing and cost-effective — and vinyl windows tick all the boxes. Vinyl window replacement is a go-to option among homeowners, contractors, and architects.
Vinyl windows have built up quite a reputation as a decent alternative to their wooden counterparts, while being lower on the price spectrum. Typically, the costs of vinyl window replacement that you'll come across can range from a little over $200 up to $1000 for high-end varieties. A more exact estimate, however, depends on several factors including the type of vinyl window, the glass, and the cost of installation.
The $200 Vinyl Window Gimmick and Why You Should Avoid It
Simply put, there's no company out there that can make a profit by selling vinyl windows for just $200 (and sometimes $189) including installation. Considering the cost of materials, the overhead sales commission, and the installation, it just wouldn't make sense from a business perspective. Regarding the installation, for instance, big contracting companies will often hire subcontractors and pay them for every window that they install.
A lot of these cheap vinyl windows are quite small compared to standard varieties. While a typical window is at least 89 UI, the $200 one is below 79 UI. The UI, or United Inches, is the sum of the window's width and height.
More importantly, there are huge limitations on what you actually get for that price. With all the costs involved, the window is in fact worth much less. In other words, you'll need a larger unit than what the price includes. Also, these cheaper products do not feature any of the important upgrades that help save energy, nor do they include other items such as grids, locks, and anything else that a decent window should have.
Vinyl Window Pricing by Type
As with any other window, vinyl windows are available in a variety of sizes and configurations. The pricing will naturally differ according to each type.
Single-Hung Vinyl Windows
Also referred to as sash windows, single-hung windows are characterized by a fixed upper sash and a movable lower section. Depending on the features, such as the number of pane layers, vinyl single-hungs cost anywhere between $100 and $400 plus another $40 per hour for installation. You can expect to pay $200 to $600 on average for every window installed.

Double-Hung Vinyl Windows
Double-hung windows look a lot like their single-hung counterparts from a distance. As opposed to the latter, however, both the upper and lower sashes are movable. The average homeowner will normally spend $150 to $650 for double-hung vinyl replacement windows. For a home with eight windows, for instance, the price will range between $1,200 and $5,200, with the installation costing anywhere from $100 to $250 per window (or $40 to $50 per hour).
Vinyl Sliding Windows
Sliding windows are no different from other varieties in that they are available in a range of sizes, styles, and of course, prices. The windows consist of two sections, one or both of which slide horizontally. You can expect to pay $200 to $600 for a vinyl sliding window and an additional $100 to $400 for installation.
Vinyl Casement Windows
Casement windows vertically attach to the side of the frame via hinges, and normally open outwards using a crank handle. The price of a vinyl casement window ranges from $250 to $500, with another $110 to $225 to install one.
Vinyl Awning Windows
Awning windows are similar to casement windows in that they open outwards with a crank handle. The only difference is that they are hinged along the top instead of vertically. On average, vinyl awning windows carry a price tag of $225 to $795 per unit, depending on size and design. As with most other varieties, installation is $40 to $50 per window.
Vinyl Bay Windows
A common element in Victorian houses, bay windows still maintain their popularity to this day. The window features a larger middle frame and two narrower side frames on each side. For vinyl bay windows, you're looking at $1,500 to $4,500 per unit, and $300 to $500 for installation.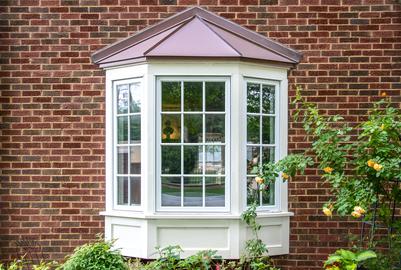 Picture Vinyl Windows
Picture windows are designed to offer a substantial view of outdoor spaces while letting in a lot of natural light. Typically featuring a single pane, these windows are often fixed and don't consist of any mullions. Due to their simple design, picture vinyl windows are relatively the least expensive, costing as little as $200 for small units and up to $1,500 for much larger ones. Installing a picture vinyl window costs between $125 to $400 per unit.
Decorative Vinyl Windows
Decorative windows are most often fixed and are available in round, octagonal, triangular, and other unconventional shapes; unique features such as textured trims are also common. Depending on the size, you can expect to pay anywhere between $150 and $1,000 for a decorative vinyl window. Considering the uniqueness of the designs, the installation may require some additional work, costing $800 on average for the project.
Vinyl Window Pricing by Glass
Windows are more than just sources of light and ventilation. The types of glass panes that are available on the market broaden the design and price options even more. Windows tend to alter how homeowners can see the outdoor world, and the type of glass plays an important role in that regard. The glass in windows often varies in the number of panes, energy efficiency, and light or heat reduction.
Single-Pane Vinyl Windows
Single-pane windows consist of one glass layer that you can find in various colors, styles, and treatments such as tinted, tempered, and shatterproof. As the least expensive option for vinyl windows, single-pane glass ranges from $100 to $400.
Double-Pane Vinyl Windows
An upgrade from single-pane windows, the double-pane variety features two layers of glass with nothing but air in between. This layer of air allows the window to be more energy-efficient and reduces the chance of condensation. Double-pane windows will sometimes contain argon gas to boost efficiency — but more on that later. Double-panes naturally cost more than their single-pane counterparts, averaging between $150 and $600 for basic vinyl window designs.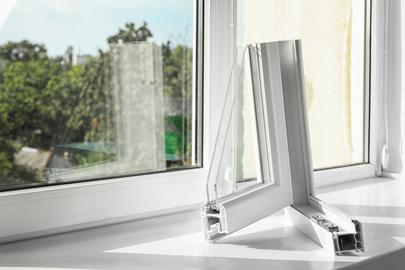 Triple-Pane Vinyl Windows
If two panes aren't enough for your home, you can always go for triple-pane vinyl windows for maximum energy efficiency, condensation prevention, and noise reduction. Due to the high cost of construction, triple-pane units aren't a standard option and are often manufactured on demand. Triple-panes may cost anywhere between $400 and $950 for a simple vinyl window.
Vinyl Window Coating
Coating on vinyl windows are meant to minimize glare and prevent UV damage to furniture. Reflective window coating also reduces heat entering the home, helping to keep the indoor temperature cool during the summer. Depending on the type of coating, size of window, and how complex the design is, window coating prices can range from $225 to $550.
Spectrally Selective Window Coating
Spectrally selective coating, or tinting, allows for as much light to pass through while blocking up to 70% of the heat. This option is especially ideal for areas with hot and sunny weather. The prices vary according to the window design, size, number of panes, and type of coating. For spectrally selective coating on vinyl windows, you are looking at an average of $350 to $850.
Vinyl Argon Windows
An alternative to standard glass windows, the argon upgrade applies to double and triple-pane units. The space between the panes are basically filled with argon gas and sealed. Argon gas is six times heavier than air and offers a great deal of energy efficiency by blocking the flow of heat for a price of $375 to $850 on average per vinyl window.
Vinyl Low-E Windows
Low-E windows contain a microscopic sheet of metal on the inner side of double or triple-pane glass. This low emissivity not only helps in blocking UV rays, but is also useful in maintaining a moderate indoor temperature. Regardless of window size, you can apply low-E coating to just about any glass pane. Depending on your vinyl window's size and design, expect to spend $250 to $650 on average.
Cost of Installing Vinyl Windows
A vinyl window installation normally involves a flat rate of $135 in the case of single-hung and double-hung units. Window installers may charge less per unit for replacing multiple units at once, or more if the windows are oversized, have complex designs, or require more than one worker to remove and replace — such as vinyl bay windows. In the latter case, for instance, the installation fee can range from $300 to $1000 per linear foot for each window.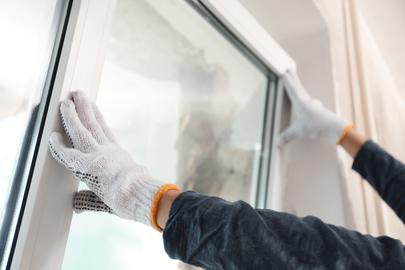 Cost of Vinyl Window Replacement - New Construction
A reason why vinyl window replacement costs are relatively affordable is mainly because they make use of the existing window frame. Should you be installing new construction vinyl windows, you'd have to buy a whole unit including the frame. This will not only raise the cost of the window, but also the cost of installing it. A new installation will typically cost twice as much as replacing a vinyl window.